Dis Pontibus
A downloadable game for Windows, macOS, and Linux
uide a young robot explorer on its mission of discovery and enlightenment! Collect the wisdom of a long-lost archipelagic civilization!

Dis Pontibus is a minimalist yet deep puzzle game, with procedurally generated and auto-curated levels.
Its mechanics are very simple, but its gameplay can be very challenging.
Please don't hesitate to comment with suggestions, bug reports, ideas, etc. I plan to keep enhancing this game as much as possible.

Purchase
In order to download this game you must purchase it at or above the minimum price of $4.99 USD. Your purchase comes with a Steam key. You will get access to the following files:
Dis Pontibus (with new world generation) for Windows 64 bit
21 MB
Dis Pontibus (with new world generation) for Windows 32 bit
18 MB
Dis Pontibus (with new world generation) for Mac OS X
24 MB
Dis Pontibus (with new world generation) for Linux
24 MB
Dis Pontibus for Windows 64 bit (old world generation)
19 MB
Dis Pontibus for Windows 32 bit (old world generation)
17 MB
Dis Pontibus for Mac OS X (old world generation)
23 MB
Dis Pontibus for Linux (old world generation)
24 MB
Comments
Log in with itch.io to leave a comment.
Good game. With hit and trial I figure out how the blocks work. Needs a guide explaining how they work.
This is really cool, but I think something needs to be done about getting easier puzzles towards the beginning. Also, the numbers before each puzzle and the collectables (yellow things) are never explained. I've only gotten to play with one puzzle with the sparking and it was bare sufficient to explain what that effect did (only one move I was ever able to make was "bad" because of it).
Roughly speaking:
1x1 greens are very difficult to work with
1xN greens are tricky if they need to move in their thin-dimension direction
1x2 browns are very difficult to work with
Oddly shaped greens are difficult to work with
Longer distances to cross are more difficult
Fewer "excess cells" not needed to form the path are can be difficult to work with
Oblong greens that are aligned perpendicular to the path direction are frustrating to use (relates to point 2)
In general I feel like I can only get about 10 puzzles deep (not counting the tutorial 3). I have almost no opinion on how yellows effect difficulty, as I've seen very few of them. One was oddly shaped, but the only other piece was a 1x2 brown and it was just a matter of moving the brown around to let the yellow rotate as needed. I guess the 1x2s are the most frustrating that I've seen? Maybe its "how many other pieces are there" that makes them worse to work with?
Thanks for the comprehensive feedback!
I'll take it into account for the sequel I'm making.
No problem! I'm sure there's some more things I could extract that make puzzles easier/difficult, but it would take a broader exposure to more puzzles to work out (and the current setup makes that tricky).


I did eventually figure out the sparking, but it took deliberately forcing that one puzzle into different states (specifically ones not related to solving it). I would suggest changing the visuals for the failure state from a radial burst to an arc that causes lightning to jump from the one electrified piece to the other electrified piece indicating that the failure was due to the relationship between the two.
To that, though I'm sure you're aware and take this into account, the different sorts of piece modifiers like that add to puzzle difficulty. And it may be worth investing in creating a hand-designed tutorial puzzle for each of those modifier mechanics and making the algorithm use it at the first point that the modifier would be used. I'm not sure what a tutorial looks like for this particular modifier, as its going to require multiple opening moves whereby BOTH electrified pieces can be moved to touch each other, and both moves look like a path to a solution. Hmm...
Maybe something like this: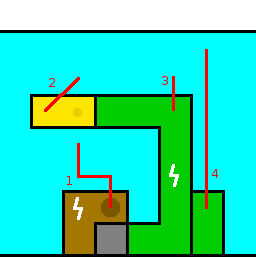 The yellow needs to be replaced with a metal square at the destination point of move 2 (as depicted it'll fall into the water; I drew the yellow before realizing this) so that it supports the large green after move 3. Move 3 needs to be made in order to get enough distance across with move 4 (and no other move with the large piece is possible), but move 1 needs to be made to get the brown out of the way first. ANY other move with the brown would result in electrocution or disconnection.
aaand purchased. may i ask what's the goal for? please let it be a mobile/switch port to take this gem on the go.
Thanks! I hope you enjoy it!
The goal is to explore the islands to collect the wisdom the natives left painted in the walls. But to achieve that you must solve the puzzles...
I cannot yet make a switch port, but a mobile one is planned (with some tweaks in the rules to make it more playable with touch screens).
"Push Bridges" is the perfect brain exercise.
I hope you consider publishing it on Steam.
Thanks!
I'm considering it, after I add some more features and better art.
In the meantime, I trust the word-of-mouth of puzzle lovers :)
Hi Marcos,
Steam has an "Early Access" feature for games that are not yet complete.
Even though I believe your game is complete, you could place it in "Early Access".
And let people who purchase your game know you're adding more features.
Best Wishes
have you posted it on reddit? there are so many subs (/r/playmygame for example). and the communities there are really tight and can give a lot of exposure to your page.
Whoa, never thought such neat puzzles could be generated. Nice game.
I think this one might be impossible.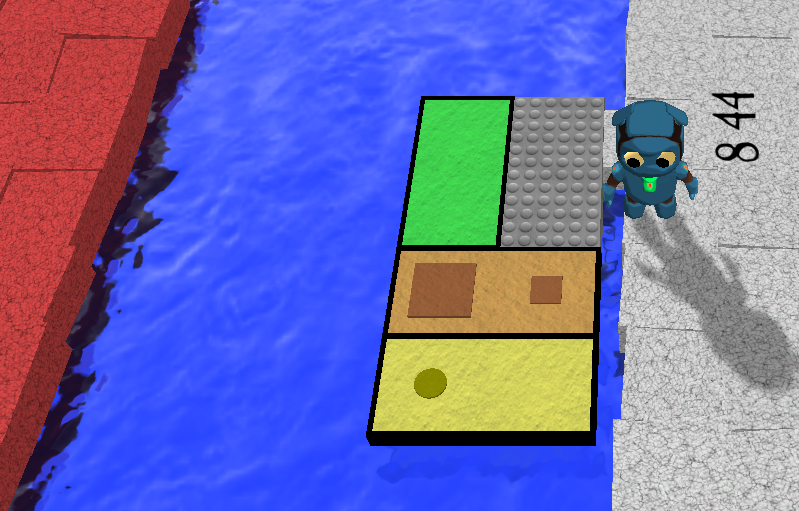 Thanks! Rest assured, all puzzles are solvable.
are all levels random? or are there both a fixed number of hand designed levels and random ones?
Only the first three levels are hand-made (the tutorial ones, that teach how the different pieces work).
The rest are thousands of pre-generated and classified puzzles, and they are selected randomly to make each game unique.
I pre-generated them in order to make the game run smoothly. The generation and classification are very CPU-consuming.
i am so intrigued with your game. i will definitely grab it next week. are you thinking of a steam/switch/ios/android version? this game is awesome on the go when you got 10 minutes to kill.
best of luck with the release and much success.
I'm planning to do a mobile port, but I have no time at the moment. Perhaps during my next vacations...